Athlete with Impact: Remembering Hank Aaron
The morning of Saturday, January 22nd started off like any other. It was Friday, and we were getting up early for the last time after a long week of school or work, walking down the stairs to get breakfast. Moments later, the world would learn that legendary baseball player, Hank Aaron, passed away. 
Hammerin' Hank was not only Major League Baseball's all-time Home Run Champion* but he defied all odds to forge a brilliant career, set an example for younger generations, and open doors for many African American men in the South.
When he heard the news, life-long Braves fan Claude Silfani said "I was devastated. He had an amazing impact on the Atlanta community and all of major league baseball." 
Silfani continues, "I was always amazed by his highlights, the way he played the game during immense adversity really showed his grit and sheer will for success." 
Ask baseball player, Jackson DeCamp, and he would tell you Aaron was "one of the first people of his generation…it wasn't really about the home run back then." DeCamp accredited Aaron for being a major influence of Marc McGwire, Sammy Soza, and Barry Bonds, among countless others. DeCamp goes as far as to call Aaron "a trailblazer of a new era of baseball."
Aaron grew up in humble surroundings in Mobile, Ala. He passed through the sandlots with brief stops in the Negro Leagues and the minor leagues before he settled in with the Braves. He seemed to battle adversity his whole career, playing in his prime in the Deep South during an era of great social injustice. 
Despite this, the whole continent came together for a legendary Monday night game in which Hammerin' Hank would overtake Babe Ruth for the all-time record for most home runs hit. DeCamp noted the larger implications of this achievement, saying "it showed [black people] can be equal" baseball is not about your race, but "it's about the commitment you put into it."
Alan Keel, Blessed Trinity's media specialist remembers this game vividly. Keel recounts his most prolific memory of the Braves on April 8, 1974: "It was a warm Monday night and I was in 6th or 7th grade. It was way past my bedtime, but my parents allowed me to stay up and watch the game. Watching him hit that 715th was exciting. It's a record everyone in the stands stood up and applauded" 
"Hank Aaron WAS the Braves," explains Keel, "He won gold gloves for fielding, stole bases, he rarely struck out, he truly was the face of the franchise." Indeed Hank Aaron hit the .300 mark in batting 14 times, knocked 30 home runs 15 times, delivered 90 RBI 16 times, and captured three Gold Glove Awards on his way to 25 All-Star Game selections.
Most of Hank Aaron's records and legendary accomplish remain untouched, including: 
6,856 Total Bases (1st)
755 Home Runs (2nd)
1,477 Extra Base Hits (1st) 
2,175 Runs Scored (4th)
2,297 Runs Batted In (1st) 
Aaron was also elected to the Baseball Hall of Fame in 1982.
In addition to these amazing accomplishments in Baseball, Hank Aaron was an inspirational and successful social justice activist. After his retirement, he joined the Braves as an Executive Vice President and advocated for African Americans not just playing on the field, but in all levels of management. 
Keel explains his take on Aaron's impact in Atlanta, "I think it started back with the home run chase," which some people did not want Aaron to win. "Despite hate letters and death threatening messages, he never let it affect him. He helped a lot of people without people knowing about it," said Keel.
Despite his fame, Hank Aaron remained approachable to people from all walks of life. "He'd be talking with people and telling stories. He was a very humble and likable guy, and never talked about himself," said Keel. "Not until I was older did I start realizing and seeing the kind of social impact he made." 
When we lose a treasured sports icon, we often reflect on their stats or awards or their leadership on the field – but for Hank Aaron, that is only half the picture. He overcame poverty, prejudice, and social injustice to elevate his game, his team, and his community – leaving Baseball, Atlanta, and the World better than he found it. He persevered in baseball and he persevered in life:
 "My motto was always to keep swinging. Whether I was in a slump or feeling badly or having trouble on the field, the only thing to do was keep swinging." – Hank Aaron
About the Writer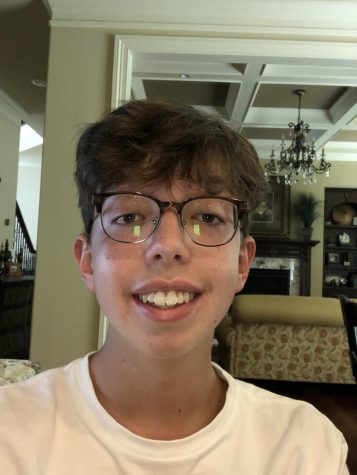 Tighe Russell, Section Editor
Tighe Russell is a senior and the editor of the Athletic Achievement section of the Titan Times. He's involved in football announcing, student ambassadors,...