Day in the Life of a Varsity Sprinter: JoJo Miller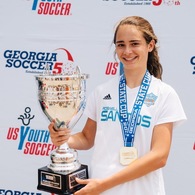 Well into the spring season, Blessed Trinity athletes are hard at work competing in one of the most competitive environments in the United States. The girl's track team, composed of sprinters and distance runners alike, is making their presence known in the GHSA. JoJo Miller is one BT student on the track team who has made large strides for the school in competitions. Through her insight, she shared what it means to be a varsity sprinter at BT.
The preparation for meets isn't just a day of the ordeal, but a process that begins days in advance of an upcoming competition. JoJo shares that "in preparation for a meet, practices start to get really hard the week before. We work on handoffs and find out who our relay partners are." Meet day is one of the most exciting parts of any track athlete's week. JoJo states that "warmups are with the team. We practice handoffs and they call the events over the loudspeaker. We put our cleats on and check-in. After the race is done we cheer on our other teammates." 
Being a varsity athlete in any sport is hard. Finding time to balance schoolwork, sports, and social life is something that many athletes struggle with. When asked about balancing school, her social life, and her sport, JoJo stated that "it is difficult. It becomes a challenge but I have to pick the things that matter to me most. I believe that if something is important to me, I should put as much effort and energy into it as possible. It can get hard at times, but I love it." The challenge that her sport brings is a feat that many find hard to overcome. When asked about what motivates her to keep playing through the ups and downs of the sport JoJo said, "I love the excitement and the adrenaline. It motivates me to keep playing no matter what. The challenge of beating [personal records] and competing is what keeps me going. Her words serve as encouragement for any athlete that while it can get overwhelming at times, it is the things that matter most which we must put the most time into. 
Being a varsity athlete is no easy accomplishment. Balancing the different aspects of life with a varsity sport is a huge commitment that many BT students are very familiar with. JoJo's experience with her sport demonstrates an athlete that loves her sport and should serve to encourage others within the student body to do the same.