Day in the Life of a Varsity Baseball Player
Blessed Trinity Catholic High School is filled with an abundance of student-athletes. While walking through the halls, there is no doubt one will spot a student wearing their letterman jacket with pride. As the spring sports season has officially begun, many students will incorporate their sport into their daily schedule. One of these students is Max Puckett, a senior who plays first base for the varsity baseball team. Baseball is one of America's top sports that brings us all together and requires each player to step up to the plate with their own expertise. Puckett will take us deeper into what it is like to be a varsity baseball player for BT. 
Puckett shares what it is like to prepare himself for games, stating "I make sure to show up to the field earlier than when the team meets to stretch and get extra work in the cage before we start warming up as a team. After we warm up as a team, I make sure to get extra fielding work just before first pitch." Puckett taking the extra step to work on himself as well as with the team shows the dedication he has for the sport. Baseball Coach Brandon Harwell boasts about Puckett being a great leader on the team, mentioning that, "[He] is a balanced all-around player but he can really swing the bat. He has been one of the top hitters since joining the varsity team as a sophomore."
Almost everyone can agree that the best feeling for someone who plays a sport they love comes on game days. The excitement and anticipation mixed up create an energy in the air that nothing else can match. Puckett walks through the process that goes on during game days, stating "we usually show up about 2 hours before to stretch and throw as a team. We then take team batting practice and then finish it off with in-and-out 15 until the first pitch. As a team, we don't put on our jerseys until right before first pitch and at home games, our hitters have individual walk-up songs." All the work that is done with teammates and coaches finally comes into play during the actual games and it creates a great experience for everyone to enjoy together. Harwell says that his favorite part is "being in the dugout with the players [and that] the team atmosphere is great." 
Getting caught up in baseball is great, but trying to balance school and sports can be a grueling process, especially for a senior. Puckett does not let that slow him down though, even creating a routine with a set time frame for certain tasks. The key to keeping himself disciplined is to not "get distracted by things like Netflix, YouTube, TikTok, etc," comments Puckett.
It is clear that baseball is a big part of Puckett's life. Creating stability with all of these outside factors can be difficult, but Puckett has a big support system from his teammates. They each have a goal to leave their own legacy on the Blessed Trinity baseball field as others have before them. Best wishes to the team as they start their season and reach their goals, Go Titans!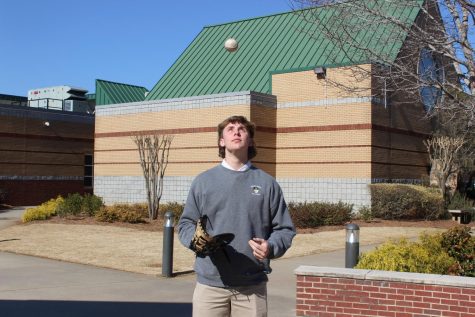 About the Contributor
Makenzie Smith, Staff Writer



Makenzie Smith is currently a junior and a new staff writer for the Titan Times. Makenzie is also involved in numerous clubs with Blessed Trinity...