Girls Cross Country: Breaking Records
The Blessed Trinity Girls Cross Country team is on track for a historic season. With regionals around the corner, Head Coach Greg Johnson could not be more excited for this group of girls than for years past. "This Girls Cross Country team is the strongest that we have ever had at BT. They have set school records for the top 5 team average and have run top 5 team average course records at two high level meets this year. The depth is stronger than it has ever been."
The 5A Regional Championship begins Tuesday, October 27, at Woodlands High School. In preparation for the state championship, Coach Johnson is planning to sit out his top 5 runners and put his best 6-12 runners in the spotlight. This team, led by senior Emma Jacobs, is running for its first girl's regional title since 2012. Coach Johnson has high hopes for this group of girls heading into regionals, even saying, "We have a great group of alternates that are ready to step in if need be."
Just under two weeks later is the GHSA Girls Cross Country State Championship, a title Coach Johnson has looked to own since he took over for the girls in 2017. He expects to face a strong St. Pius team but says he'll be able to send a team that can take the heat.
"Kelly Ann Sutterfield has been leading the way this season and recently ran a sub 18 5k, a nationally elite time. She comes into the state meet as the second-fastest runner in the state. Katie Hamfeldt and Hannah Miniutti follow as the fourth and fifth fastest in the state. Then Nicole Chastain and Claire Petersen are the 9th and 10th fastest runners in the state. Never before have we had more than 3 girls all-state and we are in a position to have 5 runners race to an all-state finish. Emma Jacobs and Elizabeth Shipley add great depth to the squad and can beat St. Pius's #5 runner on a given day. Then we have a great group of alternates that are ready to step in if need be."
What does it take to train and prepare for a cross country state championship? Varsity runner Kelly Ann Sutterfield says "It takes a lot of dedication and hard work… There are a lot of obstacles to overcome, which are even more challenging when the sport is so physical."
Coach Johnson doesn't just start every runner off on a varsity regimen, however, he gradually increases the mileage of athletes throughout their time with the team. "All runners build up their mileage gradually over time. More experienced runners that have been healthy and consistent over the course of 4 years could see significantly more mileage than a new runner or someone that has dealt with injuries in the past," he says.
"Despite COVID," says Kelly Ann, "the season would be fairly normal, we'd just be placing better. We've been looking forward to this team for a long time."
About the Writer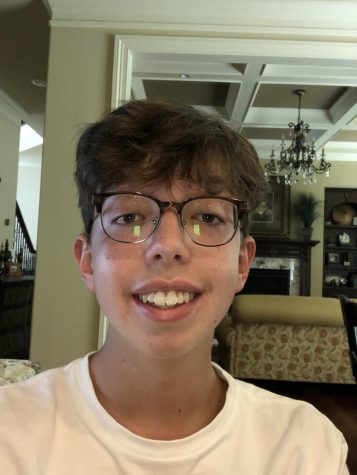 Tighe Russell, Section Editor
Tighe Russell is a senior and the editor of the Athletic Achievement section of the Titan Times. He's involved in football announcing, student ambassadors,...