COVID-19 is Changing the Game for College Admissions
College admission is often considered the culmination of a Senior's academic, athletic, artistic and community achievements throughout their high school career. But with college admission more competitive than ever, applicants who under-represent their knowledge, experience or enthusiasm could get left out.
Especially today, due to Covid-19 protocols. Different standards apply to different schools across the country, with some of the most prestigious following strict admissions rules that admit only the top ten percent of students not only in the United States, but around the world. 
In the escalating arms race of college admissions, many parents are paying for advice from private college counselors, financial advisors, and Test Prep whizzes in hopes of boosting their chances at a top university. But college bound Gladiators and their parents should not overlook a major source of expertise right here on campus: The BT Guidance Department.
Navigating the murky waters of college admissions isn't so easy, but BT students can visit from Blessed Trinity's five college counselors – Mr. Harwell, Mrs. Michael, Mrs. Parker, Mrs. Petkash and Mrs. Miller to gain some insight into this rigorous process. 
Nic Mitchell is a BT Senior who was accepted at the University of Georgia through early admission and plans to attend this Fall. "I had good grades in challenging classes — and I think they liked my team sports," says Mitchell. "The hardest part of the admissions process was finding the time to write my essays and make them good enough for colleges to consider me," Mitchell says. 
Review and revision with his BT counselor, Mrs. Michael, helped Mitchell focus his essay on "the career I want, what steps led me to this decision, and why UGA?" he says. "Without the help of my BT counselor, the process would have been much more difficult." 
Another of Blessed Trinity's five college counselors, Mr. Harwell, notes the difficulty he has seen this year especially. "The challenge has been the uncertainty," he says. "Schools have been changing their guidelines on the fly." 
With a plethora of standardized tests being canceled across the country, universities are going test-optional this year, meaning it's not required by every school to require an SAT or ACT. As a result, more applicants are gaining confidence that they can get admitted without the high-bar test scores.
"Schools are having application spikes. UGA is having a mid-20% increase in its number of applications. We received an email from NYU the other day that said they have 100,000 new applications," explains Harwell. 
The alternative of Test-optional schools may open new doors to students who struggled on the SAT or ACT.
"What it's doing is the schools are having to look more holistically than they have in the past," he explains. "One of the challenges is that high schools across the country did virtual school a little bit different. For colleges they're having to look at additional factors other than just test scores, to see who would be a good fit. I think it has been a benefit for our students," Harwell describes.
Mitchell claims it was his GPA and extracurriculars that propelled him to a spot at UGA, currently ranked the #15th Best Public School by US News. "I think my GPA helped me a lot because I had a 4.0 and colleges love to see the effort I put in to achieve these grades. My extracurriculars were solid as well, I believe varsity football and track put me ahead, but it all boils down to my grades, now that colleges aren't always accepting SATs."
Mr. Harwell lists some keys to getting into the school of your dreams. He says: 
Maintaining a solid GPA is important.

Rigor in curriculum, which is AP or Honors courses.

Attention to detail – understanding colleges want the essay to be the same quality that's on the transcript.

Set goals for yourself – Understand what you want to achieve — and what you're willing to strive
for — to get there.

Showing interest, even passion, in attending their school (so they know it's not a casual application). Showing interest in a top-level college could be anything from signing up for a social media, taking a virtual tour, or exchanging emails with your region's college admissions assistant. 
And finally, stay close to your BT advisor. Admissions requirements change and they can help you identify the right school for you – and how to position yourself for success with admissions.
Mr. Harwell – "There are no shortcuts," concludes Mr. Harwell. "It's all about the grind."  
And just like diamonds – after the grind comes the shine – for BT's Class of 2021.
About the Contributor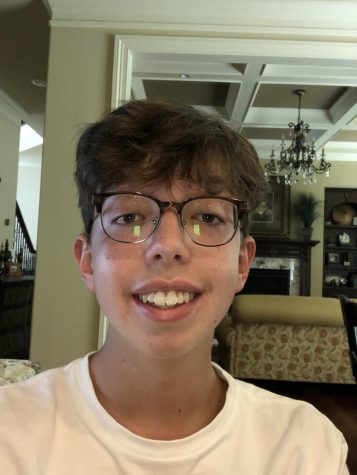 Tighe Russell, Section Editor
Tighe Russell is a senior and the editor of the Athletic Achievement section of the Titan Times. He's involved in football announcing, student ambassadors,...