Forgoing Finals
For the third semester in a row, Blessed Trinity has decided to waive our final assessments, meaning that (1) new students will have never experienced BT finals before, and (2) the seniors get to roll out of high school in style following the last final "assessments" after next week. 
Here's the basic schedule for how final assessments will work for seniors. 
Seniors, the last day of regular classes is Monday, March 3. Beginning Tuesday, March 4, we will have 2 final assessments a day starting with Green 1 and 2. Our other two blocks for the day will be review days and regular classes. If you have an AP exam between March 3 and 7, you do not have to be present in class on that day. Make sure to speak with your teacher about making up your exam, especially if you also have an AP scheduled for the day of the makeup exams! 
See the schedule below for more details: 
* NOTE: Seniors do not have to come to school beginning Monday, March 10 if they have no APs and if their final assessments are completed. If you do have an AP exam (see schedule below) on one of those days, make sure to come in at your allotted time. If you have a makeup exam, you must come to school for that exam but you aren't required to stay the whole day. 
While we might not have in-class final cumulative assessments this year, students in every year are already hard at work studying for AP exams, the first of which is early next week (!!). In case you missed it, you can find the official AP exam schedule below: 
Monday, March 3
8:00 am – US Government and Politics
12:00 pm – Physics C – Mechanics
Tuesday, March 4
8:00 am – Calculus AB
    Calculus BC
12:00 pm – Human Geography
Wednesday, March 5
8:00 am – English Literature and Composition
12:00 pm – Physics 1: Algebra-Based
Thursday, March 6
8:00 am – United States History
12:00 pm – Art History
      Computer Science A
Friday, March 7
8:00 am – Chemistry
    Spanish Language and Culture
Monday, March 10
8:00 am – French Language and Culture
    World History – Modern
12:00 pm – Macroeconomics 
Tuesday, March 11
8:00 am – Spanish Language and Culture 
12:00 pm – Latin
      Psychology
Wednesday, March 12
8:00 am – English Language and Composition
12:00 pm – Microeconomics
      Music Theory
Friday, March 14
8:00 am – Biology
12:00 pm – Environmental Science 
Monday, March 17 
8:00 am – Comparative Government and Politics
    Computer Science Principles
12:00 pm – Statistics
Here are a few tips for taking AP exams: 
Follow your routine the morning of the exam. If you are up for it, take a walk or a shower when your alarm goes off to wake up. 

If you are not a coffee drinker, do not start now. You do not want to be jittery during the exam!

Bring a bottle of water and one more pencil than you think you will need. Trust me, you do not want to be without either. 

Take a deep breath. College credit is nice, but it is not the end of the world if you get a 1 or 2 on the exam. Study intently and work hard. Doing your best is always worth it.
Best of luck to all students taking AP exams this year! We're rooting for you!
In other news, seniors have a lot going on in the next few weeks. Let's simplify it. If you need to, bookmark this page to keep your schedule straight. 
Thursday, March 6 is senior college shirt days. Make sure to represent your college with pride! 
Friday, March 7 is the Awards Assembly. Wear your proper school uniform. The assembly will be live-streamed to everyone in the school who isn't receiving an award. Students who are receiving an award will be in the main gym alongside one parent. 
Sunday, March 9 is the Baccalaureate Mass in the stadium. Make sure to arrive by 2:30 for set up. We'll be wearing our gowns, but not our caps. Boys, wear a dress shirt and slacks; girls, wear a dress or skirt. Steer clear from high heels or wedges, unless you feel comfortable walking across rough terrain and turf in them. 
Friday, March 14 at 3:30 pm is graduation practice. We'll be meeting outside the football field before practice. Wear some sunscreen!
Saturday, March 15 at 3:00pm is GRADUATION! Arrive at 2:15. We'll be meeting in homerooms. This is a cap and gown event. Boys – dress shirt and slacks. Girls – dress or skirt and dress shoes. Once again, avoid high heels. 
Sunday, March 16 is the rain date for graduation, should the weather hinder our graduation on Saturday. The same notes as above apply. 
One final note: As we near the end of a tough year, the Titan Times would like to commend all of you—freshmen, sophomores, juniors, and seniors alike. It hasn't been easy, but we handled the year as best we could and will come out the other side stronger for it. Well done, everyone! Let's finish this year the way we started: strong, hopeful, and happy. 
About the Contributor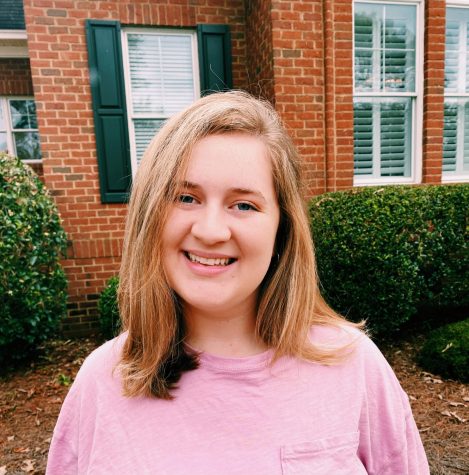 Maeve O'Neill, Section Editor
Maeve O'Neill is a senior at Blessed Trinity and is the section editor of the academic excellence pillar for the Titan Times. A lifelong writer, she...