Christmas Shopping in the Titan Zone
Finally, Santa Claus is coming to town! This year the Christmas season is in full swing, bringing much joy and happiness to a stressful year. Even with all the holly and jolly, Christmas can be a time of stress and frustration. Finding presents that are both affordable and fun can be quite a challenge. Yet, stress no more! There is nothing more perfect than the gift of school spirit, which can be purchased in our very own Spirit Zone. Although our annual Titan Tidings was canceled, there is still plenty to be found in our very own school store. 
As many of our students are aware, the year is getting colder and colder. This means that this is the perfect opportunity for the Spirit Zone's multitude of cozy, fluffy blankets to make their debut in their home. Grab a blanket for mom and dad to keep in the living room, get one for your friend's car, and more. Speaking of warm and comfortable, there are many comfy and warm sweatshirts and pullovers to keep you warm during the next winter months. They are perfect outerwear for any occasion: from hikes to holiday festivities the Spirit Zone's sweaters are perfect for any occasion. 
For our athletically inclined student body, there is a wide variety of sports tops, bottoms, and outerwear. From hard practices to leisurely Saturday walks, there are so many opportunities to flaunt your school spirit! However, these aren't just perfect for friends (or for yourself) – they are also wonderful for your parents, grandparents, and extended families. It helps foster the Blessed Trinity spirit and our community through the use of amazing styles! 
If your closets are already full, then consider purchasing something from our wide variety of options. For example, buy your father a Tumblr for his morning coffee or your mother a magnet for her car. The store also carries cute rings, hair accessories, and other small items. Also found in the store are fun accessories for games such as cute glitter headbands, car paint, and face stickers for big games. Show up with your best foot forward to school events and big games, and remember to cheer loudly! There are so many fun school spirited items. 
The Zone is also stocked with a plethora of helpful everyday items such as phone chargers, cardholder, and pencils. There are small selections of quality office supplies such as patterned composition notebooks, pens, pencils, and other necessities for your classes. Also consider stopping by for a snack, soda, or another refreshment. These are the perfect gift for the student who cannot seem to stop snacking. 
The Spirit Zone team is dedicated to helping you with all of your shopping needs. "We just got in an amazing selection of winter apparel that is perfect for Winter gifts." Grab your winter outerwear for the next game and show your school spirit! The store is open to students during the school day from 7:30-3:00, except on Wednesdays. Sales associates are present to help anyone who needs it. Visitors should call the number 770.255.5132 or buzz into the front office and a sales associate will let them in and assess their health at that time. Only five students are allowed in the store at a time, and please make sure to hand sanitize at this time. Happy shopping to all!
"We have a lot of different stocking stuffers! There is something in here from the whole family. From infants to grandparents, there is something for everyone here in the titan spirit zone. Remember that there are only a few more days for shopping until we close on 12/18." 
About the Contributor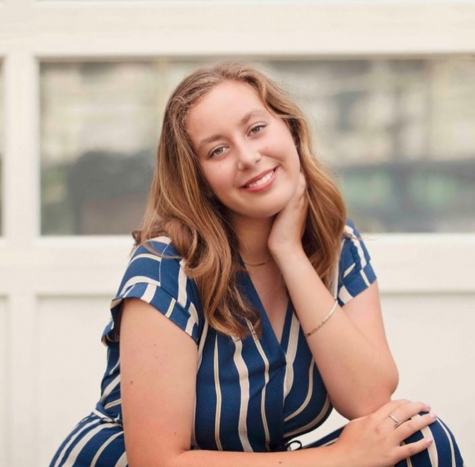 Jessica Sobieski, Section Editor
Jessica Sobieski is a senior at Blessed Trinity Catholic High School. Jessica is the section editor of the Artistic Sensibility pillar. She is very involved...