Fall Plays: A Night of Laughter
"New Normal" is a phrase that is slowly becoming more and more detested with every passing day, yet it truly reflects how much everything has changed. As she begins her second year at Blessed Trinity, Musical Theater and Drama teacher Mrs. B spoke about how different this show was, saying "It was very different than anything we've ever done before, but I think with all of the Covid 19 restrictions and the guidelines, the concept that we could come together as a community was refreshing and good for BT as a whole." She also spoke about how it was a little more open this year, bringing up the fact that this is the first year that everyone was accepted and no one was cut from the show. Although it was very exciting for all levels, the seniors were especially grateful for the opportunity to actually perform a show.
Four upperclassmen directors were each appointed a different scene where they worked with the actors in a leadership role. "Being a director really forced me to put myself out there and take charge of a group of people, which are two things I don't normally do," Lauren Mahaney, a senior, told me. This year was a wonderful break from the monotony of the Covid 19, and actress Emma Stunda was excited to be involved. She was involved in two of the four acts, one as Stage Manager in the show Audition and Cinderella in Law and Order Fairytale Unit. "I had to be on stage more, and I had to be mean, which was very different for me," laughed Emma, as she described her role of curmudgeonly Stage Manager.
The show had four acts: Audition, Check Please, Law and Order Fairytale Unit, and The Internet is a distract- Oh Look, a Kitten. The show lived somewhere between whimsical and lighthearted, and the excitement and dedication of the actors really shone through. Audition, as directed by Jordan Tisdale, was a quirky segment featuring a fed-up drama teacher, several dramatic yet horrible actors, and even a dance battle. Check Please, directed by Lauren Mahaney, was an homage to the horrors of blind dates. It featured a man and a woman at separate tables who each go on several nightmarish dates. Law and Order Fairytale Unit was a funny and anachronistic piece directed by Laura Nicolosi. Combining Law and Order and Fairytale characters created a tale of drama, intrigue, and vague German accents. Last, but not least, The Internet is a distract- Oh Look, a Kitten had much to say about society's current addiction to technology. Especially during these times, this show will make you reevaluate whether you should turn on Netflix or maybe pick up a book. With laughter, online drama, and more, Javier Mina directed a show that really encapsulates the addictiveness of media today. Across all shows, these performers and technicians have so much to be proud of because they worked hard to find a way in which they could still produce their art.
About the Writer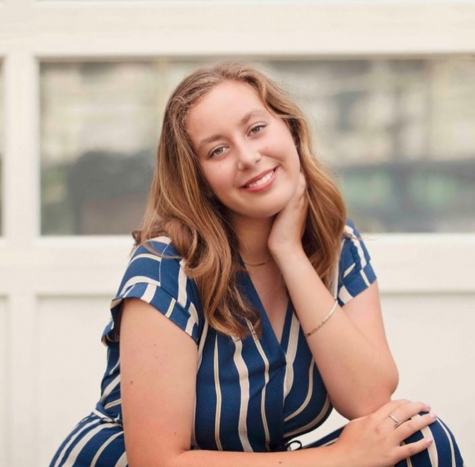 Jessica Sobieski, Section Editor
Jessica Sobieski is a senior at Blessed Trinity Catholic High School. Jessica is the section editor of the Artistic Sensibility pillar. She is very involved...