Senior Homecoming Court
As class president, Robert is already a politician in the making. Robert is involved with student government and is the founder of the morning announcements team. His favorite memory at BT is making crystals out of aluminum during AP Chemistry. He hopes to eventually attend Georgetown with a focus on Public Policy. "Politics is very important to me. Exercising my democratic duties in a way that supports the marginalized is something I passionately believe in," said Robert as he was explaining why he wanted to run for public office in the future.
William is on the Varsity basketball team, President of the Engineering Club, and Vice President of the Habitat for Humanity Club. His favorite memory of Blessed Trinity is when they beat Marist at basketball. William spends his free time building a drone in his basement, with only the help of some youtube videos. "I know it's a little cliche," he said, "but I want to create something that helps to improve the world." As he moves on from BT, he hopes to major in mechanical or electrical engineering.
Michelle, the resident artist, can usually be spotted in the hallway with a happy expression and a large sketchbook. Her dynamic personality allows her to manage her demanding roles as President of the National Art Honor Society, President of the Spanish Honor Society, and Co-President of the Will to Live club. Mental health is extremely important to Michelle, and she wants to be a pediatric psychologist when she gets older. She said, "in our society today, it is very difficult to know that other people are going through what you're going through."
Allie is a member of Varsity golf, co-founder of the chemistry club, and Vice President of Mu Alpha Theta. However, most people are aware of her involvement in golf. Not only has she landed a scholarship to the University of Virginia, but she has also been recognized with the very prestigious Jerry Cole Sportsmanship Award. Her favorite memory at BT is the golf state championship, where she feels that she really bonded with her team. She spoke about how much overcoming her issues with scoliosis really affected what she wanted to do with her life. Today, Allie hopes to become a Pediatric Orthopedist specializing in scoliosis.
Ron is the President of both Mu Alpha Theta and the Chess Club. He is also a Varsity Cross Country runner and plays piano for Tri-M, the music honor society. Ron's favorite memory of BT is during AP Chemistry when he would sometimes store a box of Life cereal or pita chips in the classroom to snack on during intense chemistry study time. For his future, Ron wants to attend MIT and be a part of their Naval ROTC program. "I really want to serve my country for a few years," he said, as he discussed his future. He hopes to major in computer science.
Megan has a passion for sports. She is involved in Blessed Trinity's student government, the St. Vincent de Paul Society, and Varsity Volleyball. Her favorite memory is winning against Pius in volleyball. "I'll try any sport there is," she responded, "I still play basketball, and I try to play everything." Megan hopes to go into Business with a focus in Finance at the University of Georgia, University of Texas, or the University of Kentucky.
Payton is involved in Varsity Cheer and Lacrosse, as well as the Spirit Squad. Her favorite memory is winning the football state championship. Payton has a strong passion for history. She says "I have always been interested in history. My mom has always brought me to it. It's one of the things I'm the best at." In fact, Payton hopes to become a historian one day. Her love of history is at heart and very closely related to how important family is to her. One day, maybe Payton will be in the history books herself!
Gabby is a stellar student at Blessed Trinity. Her impressive resumé includes the class vice president, student ambassador, varsity cheerleading co-captain, Xavier house leader, and editor of the yearbook. Her favorite memory at BT is when she went to Savannah for a football game with the cheerleading team. Her passion carries through in all aspects of her life. "My grandpa is a huge part of my life. I'm really close to my family," she said when discussing her family. When asked about her future, Yates responded "I'm not entirely sure yet. Part of me is really interested in film." No matter what she does, her friendly personality and ability to talk to anyone will guarantee her a bright future.
John Ryan and Vincent Pinunzio were contacted for a statement, but The Titan Times did not receive a response.
About the Contributor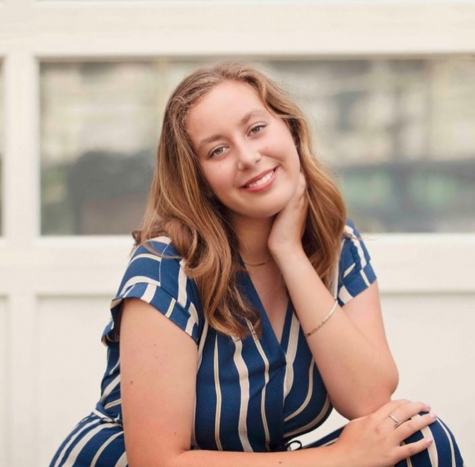 Jessica Sobieski, Section Editor
Jessica Sobieski is a senior at Blessed Trinity Catholic High School. Jessica is the section editor of the Artistic Sensibility pillar. She is very involved...