Senior Squad Captains
It is certain that the students at Blessed Trinity Catholic High School have more than enough reasons to celebrate their accomplishments through school spirit. From the incredible amount of athletic accomplishments to the degree of academic excellence that is obtained, Blessed Trinity expects nothing but the best from its students. So, it was only a matter of time before a club was founded that aimed to celebrate the variety of achievements that this school has attained – Spirit Squad. 
I got the chance to interview the three senior captains – Javier Mina, Madison Muir, and Maura Ryan – who lead the club and ask them about what it means to be a part of such a spirited organization.
Senior Javier Mina told me that he joined Spirit Squad because throughout his first couple years at BT he "always thought that the people on the microphones at the pep rallies were having so much fun and [he] wanted to be a part of something like that when [he] became an upperclassman." 
Both Madison Muir and Maura Ryan mentioned that they joined Spirit Squad in an effort to "cheer on the Titans" (Maddy) and "be involved in the decisions that would lead our school spirit" (Maura). 
Maddy also explained that being a senior captain mainly entails "setting out the themes for events, getting the students to intake on ideas for school events… and making sure everyone's loud and spirited at games!" 
To put it plain and simple, Maura told me her main role as a senior captain is to "have a lot of school spirit." So far, the three senior captains have done a fantastic job in generating turnout at school events, and I'm sure we are all excited to see what they have planned for the school year ahead.
I also wanted to know how they think that Spirit Squad is beneficial to our school environment and what their favorite part of Spirit Squad has been. Javier told me that other students should join Spirit Squad because it is just "about making our school year, sporting events, and pep rallies as fun as possible" and everyone being able to voice their opinions on the best ways to increase school spirit would only make "[the year] a better experience" for everyone."[Joining Spirit Squad] is a great way to make friends and help make decisions on behalf of the student body," according to Maura. If you ever find yourself in need of a club that is literally centered around creating a positive environment for you and your friends, then Spirit Squad is definitely the way to go. The three revealed that their favorite parts about Spirit Squad are "the pep rallies and getting to hear everyone cheer on the titans together" (Maddy), "leading everyone in cheers at the football games" (Maura), and "being able to plan out the football game themes and making sure that our school spirit is top tier" (Javier).
There's no doubt that the three senior captains of Spirit Squad this year are perfectly fit for their roles. Throughout the interviews, I certainly got the impression that Javier, Maddy, and Maura all want the best for the BT community, and hope that all students show out for as many school events as possible this year. For those of you who are skeptical about how much school spirit can really do for your high school experience, look no further than the three of them and how much they have thrived throughout their four years of high school. If you want to keep up with any updates that the school year will bring regarding all varieties of school events, make sure to follow the Spirit Squad on Instagram @titansspiritsquad. I am certainly confident when I say that the Blessed Trinity community would not be the same without the Titan Spirit Squad and our three, amazing senior captains!
About the Writer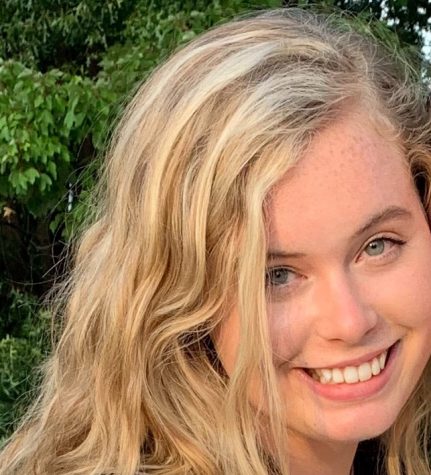 Audrey Staples, Section Editor
Audrey is an 12th grade student at BT and is eager to be a part of the Titan Times this school year. She believes that a school newspaper is one of the...