Making Lent More Significant
With Ash Wednesday and Lent arriving, many Catholics are hoping to optimize this season and strengthen their faith. It has been almost a year since the beginning of the pandemic, and many people need a time like Lent to refocus themselves and get back on the path towards God. However, you must first understand the significance of Ash Wednesday and Lent.
To help with said understanding, Father Bob was recruited, someone who seemed like they would know a lot about this topic. When asked about the significance of Ash Wednesday, Fr. Bob responded, "Biblically, it is a sign of repentance, they wore sackcloth and put ashes on their heads, and that would be a visual sign of repentance." He elaborated, highlighting the part of the Ash Wednesday mass in which the priest puts ashes on our foreheads. He explained that when the priest says, "Remember you are dust, and to dust you shall return," it reminds us of our mortality and that we are meant to live our life in a way that honors the Lord.
He went on to highlight the connection between Ash Wednesday and Lent, saying, "Ash Wednesday kicks off the season of Lent, and that season is all about reflection and introspection." He advised that we ask ourselves, "Where are my priorities right now, and how can I line those up better with the Christian life?" Just being able to answer that question is a great start to having a very meaningful Ash Wednesday and Lent.
Many Catholics call into question the reasoning behind why we give up things for Lent because sometimes it may seem ineffective and even pointless. However, Father Bob reminds us that "our fallen human nature is attracted to selfishness, and we want what we want, how we want it, and so forth. Anything that we can do to war against that a little and keep that in check is beneficial as far as living a disciplined, balanced life." When we fast during Lent, it allows us to have control over our bodies and our temptations instead of them having control over us. Being able to deny yourself is a virtue that will help you in many aspects of your life.
Father Bob also advised everyone to look past the norms of Lent – giving up chocolates, TV, etc, – and try to connect with God on a deeper level. One suggestion he had for how to do that was to think "What vice do I struggle with the most and what are some things that could help me conquer that?" From there, we can focus on the virtue which is the opposite of that vice and establish that virtue in our lives.
As a way of encouraging us students to make Lent meaningful, the Theology Department incorporates small things into our everyday routines that remind us of the season we are in. When speaking with Mr. Weidner, who teaches the Gospels: Heart of the New Testament class, he spoke of some of the little things he does during Lent, including playing repentant music for his students when they come into class and when they pray, he prays for fortitude for all of them during the Lenten season.
Mr. Weidner's first piece of advice for Lent is to prepare for it. Runners do not sit around all week and then expect to go run well. In the words of Mr. Weidner, we need to, "pray in advance, think about not just what I want to give up, but what Lent is about, and ask God to tell you that." If we prepare for Lent, we will be ready to face whatever challenges it throws at us. 
When Jesus went into the desert for 40 days and 40 nights, he knew what he was getting into. He knew that he was going to be tested more than ever before, so he prepared himself for it. Sure enough, he was able to resist the devil and become even closer to his Father.
Another thing that Mr. Weidner says has worked for him in the past is to not "violate the spirit of Lent by broadcasting it to anyone who you think will listen." Although Lent is a great time for building community and leaning on each other, there is a fine line between that and turning it into some sort of spiritual "flex". He concluded, "Try to make Lent a personal journey and relationship with the Church and with God." Doing this will help strengthen the foundation of your faith and altogether accomplish one of the main goals of our faith: becoming closer to God.
Faith is a constant swim upstream. As you swim upstream, you get closer to God. However, if you relax your muscles, you will be pushed farther down the stream. The devil gives us temptations that will only make us be carried down the stream, but God gives us things like Ash Wednesday and Lent to boost us forward and rejuvenate our spirit. So, will you let yourself be pushed even farther back, or will you take this opportunity to move farther upstream than ever before?
About the Contributor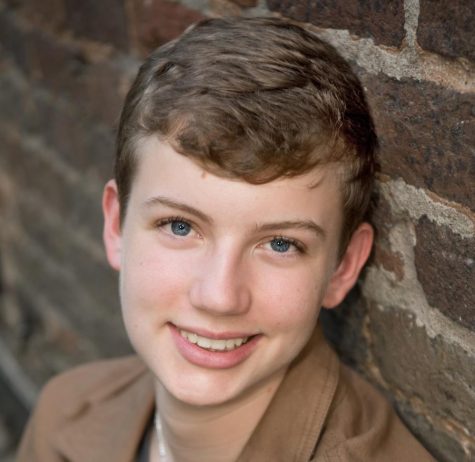 Owen McDaniel, Section Editor





Owen McDaniel is a senior at Blessed Trinity and is the Academic Excellence Senior Section Editor. He is also a Student Ambassador, captain of...