Chance the Rapper- Pop Culture Saint?
In a world where pop culture is expressive and refrains from conforming to the strict principles of Christianity, it is difficult to find a Christian icon. "It is a struggle to call anyone a Christian icon because we are so darn flawed," says Blessed Trinity Religion teacher Toni Vilardi. Yet 27-year-old Chicago Native Chance the Rapper seems to embody this unconventional characteristic. Dropping his first mixtape "10 Days" on April 3, 2012, Chance the Rapper has shot into the spotlight collaborating with the likes of Lil Wayne, Justin Bieber, Cardi B, and Childish Gambino. His raw and expressive music has earned him three Grammy awards and numerous songs on Billboard's Hot 100 while his number 3 hats have aided him in having an estimated net worth of 33 million dollars. However unlike most, Chance the Rapper consistently attributes all his success to God. According to hiphopunrapped.com, The self-acclaimed "Christian rapper" has been very open about his faith. His Grammy-winning Gospel album " Coloring Books" dives into more of his faith in songs like "How Great" that features an intro of Christian artist Chris Tomlin's "How Great is our God."
However, like most Christians, his path has been plagued by a slight immoral society. He was suspended in his senior year of high school after being caught smoking weed. A majority of his songs fall into the stereotypical rap category of demeaning women, sex, drugs, and underage drinking, and he had two children out of wedlock before wedding his childhood sweetheart, Kirsten Corley, in 2019. Nonetheless, he has made it his goal to live righteously and establish a closer relationship with God. Along with having gospel elements in his music, Chance has adopted reading the bible daily, even to the lengths of reading Galatians on an Instagram live, remaining celibate a year before his marriage, getting baptized, and using his various social media platforms to spread the good news of the Lord. He has made it his priority to teach his daughters of the faith and become a close companion with born again rapper, Kanye West, attending many of his Sunday Church Services. Though the rapper is no Mother Theresa or an actual Christian icon like Pope Francis, he proudly displays his Christian wedding without fear of public scrutiny. His actions demonstrate to other Christians that the belief is still alive and can be incorporated into both rap music and social life. " His service, his willingness to help kids in the Chicago School system, and to give back embody Christian values" Toni Vilardi concludes. Though the term itself is too subjective since we all sin, Chance the Rapper is what some may truly deem a Christian icon.
About the Writer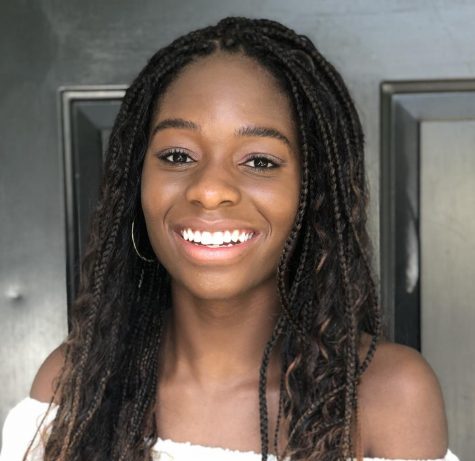 Bernadine Kumi, Section Editor
Bernadine Kumi is a current senior at Blessed Trinity. She is the section editor of spiritual formation in the Titan Times. She is president of Titan of...