The Return of the BT Auction Gala
*Disclaimer: This information has been confirmed as of February 2021. All information and details in relation to the auction gala are subject to change.*
The auction gala is one of Blessed Trinity's most well-known and beloved fundraisers. In past years, over 400 people show up to eat, drink, be merry, and participate in a live auction, a silent auction, smaller raffles, an appeal, and a wine wall.
This year will be a little different, however, and we all know why: COVID-19. Keeping that in mind, how will Blessed Trinity's 2021 Auction Gala remain safe while also continuing to serve as both our largest fundraiser and one of our biggest events of the year?
Mrs. McFarland wants to reassure: it will be hosted in-person. "We figured that by April, everyone will want to get back together and celebrate our community and the success that we've had with students remaining largely in-person. We have an enormous space that can maintain 400 people, all socially distanced. " 
2021's "Southern Stroll" Auction Gala will traverse through states throughout the southeast, as each course for the seated meal will highlight food from all over the south. Though there will be no mingling and walking around due to COVID restrictions or dance floor and band, the evening's "dinner and a show" format won't be lacking in entertainment. 
 Mrs. McFarland and the advancement office have worked tirelessly to ensure that the Auction Gala maintains its excitement and unique environment.
"Guests can expect the same level of fun, great food, and fellowship, just a different format. The Auction Gala is a community-building event, one that helps raise money for the school in a fun environment by bringing current families and alumni families together to celebrate our wonderful school." 
Though there hasn't been an official announcement as to what precisely the "live performances" of their advertising may entail, the advancement office hopes to feature Fine Arts students as key contributors. "We wanted to highlight our students, and we came up with entertainment segments which would showcase their talent." 
As for auction items, the school decided to take a virtual approach. "There will be a live auction at the Gala, but the silent auction will be completely virtual, with silent auction items available for bidding on our mobile app," says McFarland.
Guests can expect plenty of exciting items to bid for. Sticking with the "Southern Stroll" theme, guests can bid to take a trip through Louisiana, South Carolina, Georgia, Tennessee, and Florida.
"There will be lots of fun getaways and once-in-a-lifetime experiences," Mrs. McFarland said. "And did I mention puppies? Not one, but two golden retrievers could become your newest family members!" 
Though this year has been wild and completely unlike anything we've experienced, we can be certain that the Auction Gala will continue to be a highlight in the Blessed Trinity tradition!
About the Contributor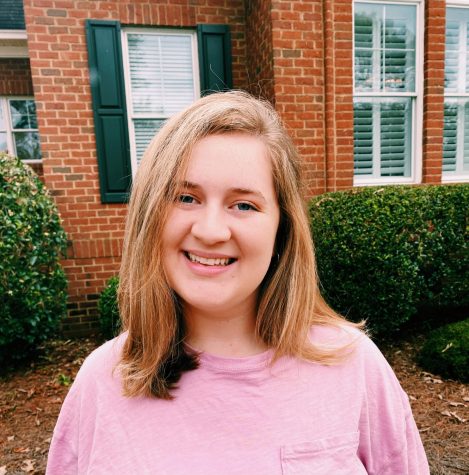 Maeve O'Neill, Section Editor
Maeve O'Neill is a senior at Blessed Trinity and is the section editor of the academic excellence pillar for the Titan Times. A lifelong writer, she...