Making Virtual School Meaningful
This year has been hard. "Unprecedented," as the majority of news show hosts and written articles and even commercials have told us. Our lives have been turned upside down—I don't need to remind you that we didn't have prom, football games were limited, our clubs were shut down, service opportunities trickled to a halt—and it still feels like we're grasping for some semblance of normalcy. Especially as we look to our school schedule as a constant…and still find it lacking. 
Many have felt the two-week effects of contact tracing and have been forced to turn to virtual school. Still, others have been virtual for long periods of time: football players in the fall, swimmers a few weeks ago, and basketball players now. 
Star swimmer Kate Baker knows what virtual school for the sake of her senior year sports season feels like, and what challenges are associated with it. "I went virtual to minimize the risk of getting contact traced during my senior year of swim. It was so hard to ask questions, engage with the class, and participate. I tried my best, but when bad wifi stands between you and an A, it can be hard to be motivated." 
Her solutions were straightforward but helpful. "When I didn't know what was going on, I turned to friends that were in person. They would tell me what I missed or help me with something that they understood because they were in class." 
It's clear that teachers feel similarly frustrated by the limitations of virtual schooling. Ms. Ammons has no problem admitting the challenges of it and how she's had to completely restructure her courses to fit the requirements of dual-learning. 
"We are going to be defined by how we handle this, so there are definitely questions that need to be answered. Do we want people to look back on this time and think that we've found a way to thrive in what seemed like a pretty hopeless time? How do we make the most of our situation?" she asks. "For me, it looks like doing a lot more personal reflections in class: journals, activities, free writing; it looks a lot like reevaluating what's important. We're focusing on quality over quantity. My students' research paper looks so different this year from past years. We're utilizing features like Google Meet breakout rooms to continue to communicate with each other. We've reserved time in class for mindful activities like Mindset Monday that allow us to regroup and get ready for the week."
Ms. Ammons feels that it's on us to communicate and let teachers know what issues we might be facing. "As an online student, you have a responsibility to stay in communication despite the tough circumstances. The students in the class are in an environment conducive to learning. At home, students have to find it in themselves to do it from home. But I know that if you're investing energy and thought and you're mindful as to how you approach your education, you'll remember it."
Her final words are an appropriate and necessary reminder as we make it towards the home stretch: "You all are super strong and positive. I can't imagine a situation that you can't overcome now because this is so unimaginably difficult. If you can get through this, there's nothing you can't do. I am so grateful that we've been able to keep learning. We are proud of you!"
About the Contributor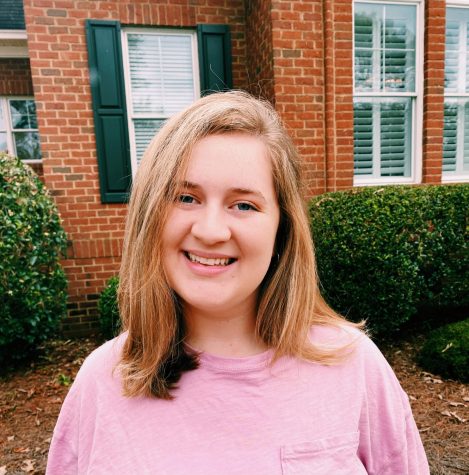 Maeve O'Neill, Section Editor
Maeve O'Neill is a senior at Blessed Trinity and is the section editor of the academic excellence pillar for the Titan Times. A lifelong writer, she...