BT Spring Athletes will not let Covid Spoil Their 2021 Season
Think back to where you were this time last year. No masks in public, no social distancing, and care-free living and studies for students. Blessed Trinity Athletes and Coaches were gearing up for their Spring Sports season, highlighted by Baseball, Track and Field, Soccer, Tennis, Golf, and Lacrosse. Of course, all of this action came to a screeching halt on March 13th 2020, the last Friday before the school's "two weeks to stop the spread." What students understood as a new opportunity for virtual school and continuation of sports soon turned into a total cancellation of sporting events for the entire country.
Many coaches and players watched their star-studded rosters and soon-to-be accomplishment-filled seasons wither away. As Track Mid-Distance coach Ilaria Bruce pointed out, "I missed the amazing season our Seniors were going to have. Jamie Dewalt could have set a school record in the 400M and the boys 4x400M team was very strong and would have had an amazing season. I also missed seeing our runners race and achieve new PRs [personal records]. We could have had a great State meet." 
Varsity Baseball Athlete Matthew McCaffrey had a similar view on his season, "The thing I miss the most about baseball season last year was the fact we were 12-4 and we were unable to finish it out. We brought energy and next-level effort to every practice and that translated into the games."
Even during the infamous two-week quarantine, athletes kept working tirelessly, perfecting their craft. "It's always been a grind to get ready for a baseball season but I feel like that season was going to be much different. Whether I'm getting swings in or lifting weights, I always make sure I'm pushing myself to the max", said McCaffrey.
While McCaffrey was training, Coach Bruce was dishing out the training regimen to the Varsity Track Athletes. "We did still give workouts to the entire team through the official canceling of the season. Most of our runners switched to Cross Country conditioning once they knew track was done."
Fast-forwarding to this season, many Athletes and Coaches are prepared to pick up where they left off with the
cancellation of last season. "I'm excited to see what this year's team brings to the table because we are in a completely different region from last year, so everything will be new to us. We have very high expectations this season. We are led by a hardworking Senior class who want to go out with a memorable season and shock the state," says McCaffrey.
McCaffrey continues, "I think that we will play similarly to last year's team considering we only graduated 4 Seniors. We have a good combination of speed and power this year and all of our hitters 1-9 are going to be tough to get out. I know we have the hardest working group of guys in the state, and we're ready to prove it." 
Coach Bruce has high hopes for this Track and Field season as well, highlighting two Junior girls on the brink of breaking school records, "Katie Hamfeldt and Kelly Ann Sutterfield will be interesting to watch this season. They are going for school records as relays and individuals and trying to qualify for state. It's hard to say, for me, what times they could hit since we missed their Sophomore season. But both girls are dangerous on the track and ready to compete after missing a season." 
This season wouldn't be complete without some COVID-19 precautions and rule changes. Coach Bruce explains some new protocols for Track and Field: "Everyone will have a mask on unless they are actively running — and we are spreading out as much as possible. Being outside will help."
McCaffrey elaborates on COVID-19 struggles, "The hardest part for us will probably be the contact tracing that goes on during school hours. One day we could have our full starting lineup and then the next we could need a few younger guys to call up to Varsity." 
No matter which way these Spring Sports seasons go, Blessed Trinity students and families are excited to tune in and express their Titan Pride! 
About the Contributor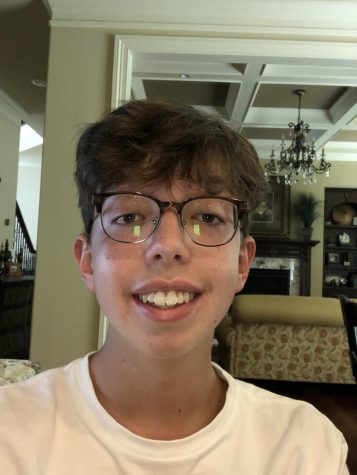 Tighe Russell, Section Editor
Tighe Russell is a senior and the editor of the Athletic Achievement section of the Titan Times. He's involved in football announcing, student ambassadors,...