COVID Christmas
"You better watch out, you better not cry, you better not pout, I'm telling you why Santa Claus is coming to town…. Actually maybe not." Since COVID is ravaging the U.S, we must still maintain a good six feet from Santa. With advent being the liturgical season of preparation for the birth of Jesus Christ, we have been preparing for a season filled with joy, laughter, and reverence. Unfortunately, we were not prepared for wearing masks instead of Christmas hats, taking temperatures instead of trips to the beach, and sitting at home instead of on Santa's Lap. People have lost their jobs, families, have lost loved ones, and our country is in a state of tension. Thus, we were all looking for a period of time where we could relax and get together with our family. Christmas is the holiday that brings everyone together however it is yet another season that we must stay apart for the safety of our community.  
However, with all this negativity and uncertainty tainting the season, it is good to attempt to define the meaning of Christmas. According to The Leo House "God is the reason for the season." Though our world is thrown into the Christmas frenzy as soon as November hits, we must begin to acknowledge why we celebrate this holiday, to begin with. Christmas is the day that Jesus was born, a day that all Christians believe changed the course of history. From the manger, arose a cry from an incarnation of God himself. The magnificence of this birth shows the beauty of Christianity itself. "rather than focus on the birth of an infant Jesus Christ, let us think about Christmas as God being born into the world into the fully human form of Jesus Christ. Let us view Christmas as God becoming a man without diminishing His divine nature. Let us also view Christmas as a celebration of God's love for each and every person in the whole world," The Leo House continues. God was able to come down on the earth, essentially equal to all of us, to die for our sins on the cross. Amazing. So when it comes to Advent and especially Christmas. We must remember that ultimate sacrifice, and treat Christmas with the proper reverence.  
To create the Christmas environment there are some easy things that we can do. According to Imom.com, there are seven different ways in which we can celebrate Christmas while still representing its significance. First, we can create a Christmas tree, similar to the one we have at BT. "This has ornaments that symbolize God's plan to bring his Savior to the world, through the Hebrew exodus, the reign of King David and all the way to Jesus' birth." Next, we can transfer our prayers to letters and have Jesus as a recipient rather than Santa Clause. Then we can set up a nativity, sing old-fashioned carols ( only if you have an angelic voice please), and watch Christian movies on Christmas day.  
These are some of the little things that we can do to enjoy a pandemic filled Christmas. Yes, Christmas will not allow for us to be out and about, or maybe get the number of presents we usually do, but we must remember that Christmas is the season of giving, and remembering the birth of Christ. Let us stay at home and stay closer to God, and let us be thankful for all the blessings that he has given to us. And maybe then, we can truly have a "Holly Jolly Christmas." After all "it's the best time of the year." 
About the Writer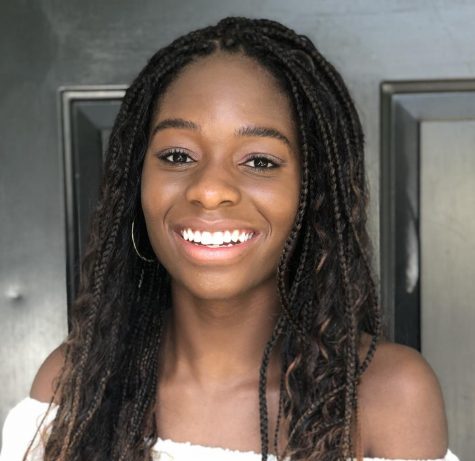 Bernadine Kumi, Section Editor
Bernadine Kumi is a current senior at Blessed Trinity. She is the section editor of spiritual formation in the Titan Times. She is president of Titan of...