20 Years of BT
"What's in a name?"
Shakespeare's common (if overused) quote has been used for centuries to question the true importance of a name. If its impact, influence, and followers truly matter. If a name matters at all.
For 20 years, Blessed Trinity Catholic High School has proved its significance through its four pillars, the guidelines that each student, faculty, and alumni follow to exemplify intellect, creativity, athletic accomplishments, and religious understanding and action. BT has grown as a community, as a school, and as individuals.
Blessed Trinity had 219 students, nine AP courses, 14 clubs, and a small but growing athletic department those twenty years ago. Now, the Titans boast close to 1,000 students, 25 APs, 38 clubs, and over 40 state championships, including three consecutive football championships. Blessed Trinity has been featured in the Atlanta Journal-Constitution, Sports Illustrated as well as on ESPN.
What has been BT's impact on its students thus far?
To examine Blessed Trinity's phenomenal growth and influence, we turn to two veteran Titans who know the school best: student-turned-English teacher, Coach Olivia O'Sullivan and history teacher Mrs. Moira Clark.
Coach O'Sullivan, a 2008 Blessed Trinity graduate who returned to teach in 2013, has a unique perspective. In addition to teaching English, she is the head tennis coach; she also loves reading, traveling, and her dog.
To her, Blessed Trinity denotes different eras of her life. "As a former student, it represents a lot of my years as an adolescent where I learned a lot academically but also a lot about myself," she says. "Now, as a teacher, it's a place where I am able to do what I love and show other people why I love it as my job!"
Mrs. O'Sullivan said Blessed Trinity has changed since she was a student. "Technology and how we teach and learn has changed. It's been wild to watch the way students interact with each other now that I'm older. But other, smaller changes have been fun, too. I wish we had Sage nachos when I went here, but I'm glad I get them now!"
Mrs. Clark is the head of the social studies department and the academic team. She is an original faculty member, giving her a unique perspective. Her favorite things fall into different times of her life: sports for her early years at BT, family time since her sons were born, and, in 2020, rejoining her high school book club.
"It's funny you ask," she says about how Blessed Trinity has shaped her. "I was teaching at a public school and absolutely adored my students. I knew that I was helping them to become the best versions of themselves, and it was so hard to leave them. But BT was an opportunity for me to do what I love. The community around us is strong, and I get to broaden the perspectives of students around us through history."
She believes that BT, at its core, hasn't changed. It has maintained the same values—academic excellence, Catholic community, and connection—since the beginning. As she puts it, "We're richer. Not in an economic sense. Our community has grown, our resources have grown, our outreach has grown. We've developed as students and teachers because of BT."
There was one thing about Blessed Trinity that stuck out for both Coach O'Sullivan and Mrs. Clark: BT has offered a foundation for their faith in ways that other schools could not.
"I think that having faith be a part of my job is something that is so special and unique about BT," says Mrs. O'Sullivan. "Something as small as praying at the beginning of each class each day keeps my faith so much stronger than I realized. It's a reminder to be thankful every day."
Mrs. Clark feels the same way. "BT reaffirmed my Catholic identity. It sounds cliché, but if I had continued to teach at a different school, I wouldn't have prayed every day, gone to mass, or had moral conversations with people around me. So…huge impact."
Blessed Trinity's name, then, has a clear impact and influence among the community. Our strong foundation of faith, academic prowess, athletic achievements, and artistic sensibility has allowed us to reaffirm what it means to be Catholic, scholars, athletes, and artists. With our community of families and faculty behind us, we will continue to succeed and make the Blessed Trinity name proud.
About the Writer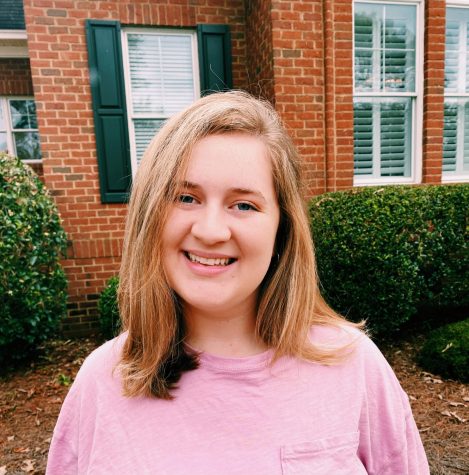 Maeve O'Neill, Section Editor
Maeve O'Neill is a senior at Blessed Trinity and is the section editor of the academic excellence pillar for the Titan Times. A lifelong writer, she...