National Merit Scholar Semifinalists
On Wednesday, October 21, I sat down with Blessed Trinity's four National Merit Scholar Semifinalists to talk about their accomplishments, academic successes, and plans for the future.
Seniors Allie Kantor, William Dyches, Ron Miller, and Robert Della Bernarda have been named National Merit Scholar semifinalists. To be named, several criteria must be met. After they took the PSAT as juniors, their scores were calculated. If individual subscores in math, reading, writing, and language are added and multiplied by two to reach 219, then the student is named a semifinalist. Approximately 1% of students in the state of Georgia reach this, so it is an enormous accomplishment.
Thanks so much for meeting with me and congrats on this amazing accomplishment! Does being named a semifinalist mean anything special to you?
Allie: Definitely! It was always a goal in the back of my mind, but actually getting the scholarship is difficult. It's nice to be considered either way.
Robby D: I can second that. The scholarship money isn't bad, either.
Do you have any tips for people aiming to reach your level of academic success, in school or testing?
Allie: Yes! I use my class time really well. Be thoughtful and effortful during the school day so you don't put as much work on yourself later on. If you have extra time in class, use it! Work on homework, study, or ask questions. Use the school day so you can have time for yourself after school to do what you love.
William: I would say to just expand your mind as much as you can. Read books to get familiar with something, listen to what people tell you, and use your knowledge to your advantage. If you don't understand something, ask a teacher, or look it up. Use your resources!
Ron: As a general productivity tip, remove outside distractions when you're studying. You won't have to spend as much time on something when you fully commit yourself and you'll also know the material better.
Robby D: Prior to the PSAT, I took an SAT class just to help me manage my own expectations of what the test would be like. For me, math and grammar is easier because there's always a set answer and rules you can follow. The class helped me in English to perceive the right answer using logic and reasoning in the way that I'm comfortable with.
Did BT help shape you into a NMS scholar at all? If so, how?
Allie: BT is a great school because it's a competitive environment that encourages you as an individual without being too cutthroat. They don't set us against each other. It's a collaborative environment that encourages personal achievement while also helping you better other people around you.
William: Generally, the teachers want to give us a strong foundation in each subject so we can be the best we can be. Learning Algebra II from Mr. Johnson propelled me to the level I reached in the PSAT.
Ron: The student body played a key role, as well. In AP Chem, we pushed ourselves to be the best. It's easy to be incentivized to work hard and push ourselves without being labeled a "try-hard."
Robby D: I agree with all of that. BT has a great environment that balances striving for personal achievements with helping those around you. We compete with each other because it makes us better, not because we want to win.
Outside of school, what are your favorite things to do? Do you have any plans for the future?
Allie: I love to play golf, bake, and watch Hallmark movies! I want to major in chemistry and then go to med school.
William: Definitely basketball. Also hanging out with friends. The community here is the best. I plan on studying engineering in college.
Ron: Running cross country and playing or listening to music. I hope to major in computer science.
Robby D: I play video games and listen to music, among other things. Really just doing what sounds interesting and learning new things.
About the Contributor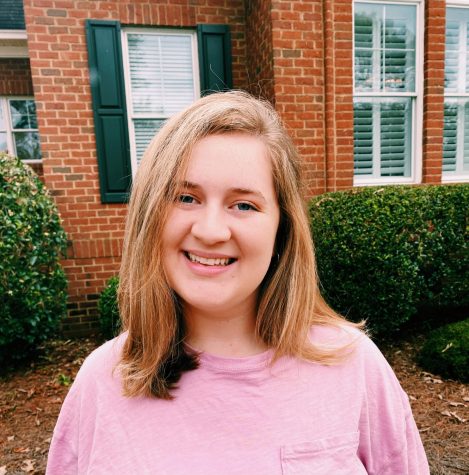 Maeve O'Neill, Section Editor
Maeve O'Neill is a senior at Blessed Trinity and is the section editor of the academic excellence pillar for the Titan Times. A lifelong writer, she...