This Year I'm Proud of…
We are proud human beings. Pride is in our nature, the root of our human existence. It was the cause of the fall between man and his creator. The bible warns against it, and we acknowledge that being too prideful has its drawbacks. However, it is something we just can't seem to shake. Pride is in the names that we have, the jerseys we wear, the places we are from, and the flags that we fly. It is in our heritage, race, or religion. And as students of Blessed Trinity, we show our pride through the attire that we wear and through the war cries at our football and lacrosse games. Though this year has been quite difficult due to COVID, it is vital to find things that we are proud of as it comes to a close.  
"I'm proud of surviving AP Physics C, jokes Blessed Trinity Senior, Alexa Cruz. "I'm proud of my Freshmen year," Pia Morton quips, " and especially the way I was able to fix all the prom issues"  This year I was proud of my work ethic," Senior John Heller continues. "I was proud of all the seniors persevering together despite the circumstances," Valedictorian, Ron Miller exclaims, I'm proud of the cross country team for never giving up even when Corona put the season at risk, says Senior Varsity Track and Cross Country runner, Emma Jacobs. 
Most of us Blessed Trinity Seniors, were just proud of getting through a mentally challenging year.  "I was proud of the way all my friends worked together to support each other through the stress of senior year and college applications. I saw a lot of my friends have breakdowns and I learned a lot more about them and saw my other friends help them get through the year," remarks Senior Michelle Harris. "I was proud of my somewhat sane mental health, and I was especially proud of making it through this tough year, even though it seemed like the odds were stacked against us," Twin of the amazing Spiritual Formation editor, Belinda Kumi states. "We finally were able to apply and get into colleges, and achieve such huge milestones during our time at BT"
Most importantly I'm proud of how much teachers helped us navigate the school year, Senior Gabby Michallet exclaims. "Teachers like Madame Womick made materials available for students both online and in-person, making school easier for us all. They have been available at any moment to help us with college recommendations, and scholarship essays, which is something I'm very grateful for." Administrators like Mrs.Hurley and Mrs.Lancaster who have worked tremendously hard to give us a normal senior year with Prom and the Senior Funfest, have made our senior year something to be proud of.  
Thus, I would say that this year we are proud of being seniors at Blessed Trinity Catholic High School. We are proud of the way we have mastered countless google meets, managed to maintain good GPAs, and still found ways to enjoy school during this pandemic. We are proud of all the different colleges we have been accepted to, and the bright futures that we know are ahead of us. We are proud of the new friends we have made, the different groups that we have become a part of, and the things that we have accomplished in our sports and fine arts programs. As we get ready to walk our final steps out of the place we have called home for the past four years, we must reflect on how amazing our time here at BT has been. This year just proves that no matter the circumstances we can find pride in the people and the places around us. And this final year at BT is something that both I and the other seniors, must say that we are certainly proud of.
About the Writer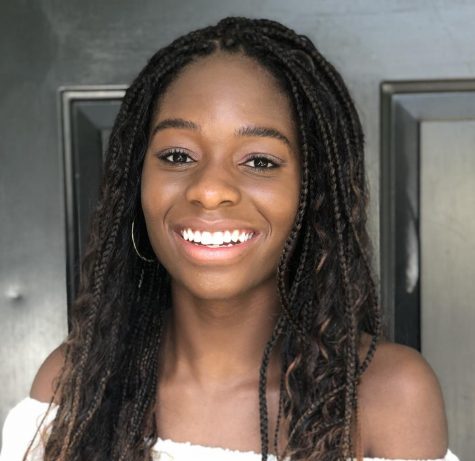 Bernadine Kumi, Section Editor
Bernadine Kumi is a current senior at Blessed Trinity. She is the section editor of spiritual formation in the Titan Times. She is president of Titan of...